African wax print giant Vlisco has launched its maiden Women's Mentoring Programme designed to empower and support the brightest female talents across Ghana.
The launch, which coincided with International Women's Day, hosted over 50 young women to learn from the experiences of some successful Ghanaian women who are past ambassadors of the Vlisco brand.
Aimed of impacting the lives of young women by providing guidance on developing key skills in a variety of relevant areas, the event offered workshops, speed mentoring sessions, and a panel discussion featuring all five past ambassadors, an exercise that sought to inspire attendees to achieve their professional goals.
The goal is for each ambassador to choose a mentee to begin a yearlong mentorship programme, creating a forum where they can actively engage with and have a positive impact on the younger generation who aspire to follow in their footsteps.
"At the end of the year, we are going to assess how all the five will be doing and next year by this time when we come back these five mentees hopefully, will come and encourage next year's batch of young ladies. We are hoping that in the next 2-3 years, these young ladies would have risen to the point that they themselves can become mentors to many people," Marketing Director for Vlisco, Stephen Badu told the B&FT Weekend in an interview.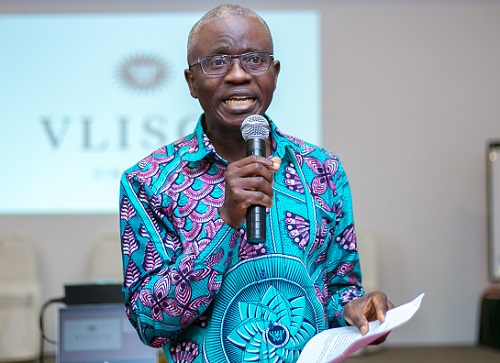 Mr. Badu indicated that prior to this year's event, the company over the last five years had the Vlisco Women's Month (VWM) which was an annual campaign to pay tribute and honour Ghana's most inspirational and successful women, by selection of an ambassador who works with the brand to continue delivering the message of empowerment to the younger generation.  But this his year, the purpose was to create more long-lasting impact, hence, the Vlisco Women's Mentoring Programme.
"We used to call it the Vlisco Women's Month Campaign which we started in 2013 where essentially, as part of the International Women's Day, we identify one outstanding Ghanaian woman as a role model or as a brand ambassador to tell his story to the world and hope that her story will inspire other women to also dream and be bold to live their dreams.
This year, we decided to lift it a notch higher so instead of just locating one woman who has already made it to tell her story, we believe there a lot of other younger women who have more challenges, fears, coupled with ambitions but they don't have the skills, the network, and the capabilities to live their dreams.
So we identified 50 of such women who have dreams, have entrepreneurial spirit, and are doing something by themselves, to bring them together and create a platform for them to be mentored by women who have already succeeded so that in a way we create a bigger pool of women to speed up the whole success process."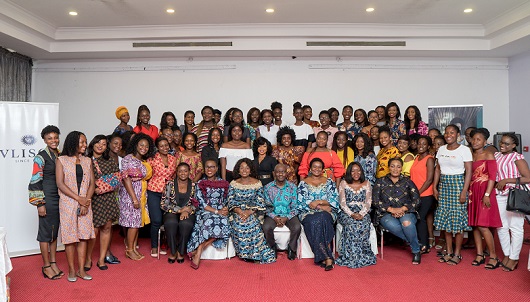 Tying in with #IWD19
The theme for this year's International Women's Day campaign is 'Balance for Better", and as a company, Vlisco strives strike to create a scale of balance so that women are also empowered to bring about the change that nations need to succeed.
Mr. Badu noted: "life and everything is about balance, nut now it looks like the balance is more towards men, it is more like a men's world. It is changing gradually but it is a bit too slow, which is not supposed to be. So I think that is what the theme: balance for better seeks to do- let us have the scale of balance so that we have more women also coming up, because when there's balance there is harmony.
We need a critical mass of women who are up there and are succeeding and the world will be a better place for us, and we think that this mentorship programme would help accelerate that balance process."
Tying in with market strategy
When asked what Vlisco stand to benefit as a business, this is what the company's Marketing Director told the B&FT Weekend: "Vlisco is mostly consumed by women even though some men do too, but majority of our consumer base are women. If women are the reason we are in business, then anything we can do to help womanhood- to help raise the standard of women will ultimately be in our interest as well.
Besides, Vlisco is not a mass market brand; it is not for the average person and so what can guarantee us being in business in the future is if we have more empowered women- as in empowered economically, empowered in decision-making and in knowledge, and that's what Vlisco stands for."
The view from the panelists
The panelists took participants through discussions on several women-related topics, in line with the 2019 International Women's Day Theme:  Balance for Better. To provide a truly immersive learning experience, guests were then split into smaller groups and hosted in close interactional workshops with the ambassadors around topics such as Building a Global Business; the Art of Public Speaking; Understanding Yourself; Thriving in a Male-dominated Workplace; among others.
Vlisco Ambassadors
Vlisco Ambassadors present were Ellen Hagan (Vlisco Ambassador, 2013). She is a human resource practitioner with over 25 years' experience, and currently the Chief Executive of L'AINE Services Ltd. She is also a co-founder of Legacy Leadership Girls' School.
Eugenia Tachie-Menson (Vlisco Ambassador, 2014) is a Media and communication personality, an education and literacy promoter, and a philanthropist who uses her ambassadorial platform to raise funds for the charity, LittleBigSouls.
Regina Honu (Vlisco Ambassador, 2016) is the Founder and CEO of Soronko Solutions, a software development powerhouse and social enterprise. She was chosen as the 2016 Vlisco Ambassador for Ghana in recognition of the courage she embodied as she fearlessly achieved her dreams despite the obstacles of operating in a male-dominated field and the burden of fighting against social stigmas.
Edith Uyovbukerhi (Vlisco Ambassador, 2018) is the co-founder of LittleBigSouls International Charitable Organisation, a not-for-profit organization committed to advocating on the serious issue of prematurity and the reduction of the terrible rates of death and disability for pre-term babies born in Africa. Until recently, she was the CEO of GN Foods Limited in Tema and is also a director of Sun Ridge Company Limited, Ghana.
The day's event also featured two fashion shows with two Ghanaian fashion designers, Marise and Constance Mensah showcasing their latest collections which featured Vlisco prints during.